Caffè Agostani, 50 years of history
It all began on June 6, 1969, when Giovanni Agostani opened the first wholesale and itinerant coffee shop in Ballabio (Como). The business is then handed down over time from father to son, integrating online with the traditional channel. On October 10, 2005, the allthecoffee eBay store opens, and the first online sale takes place on the same day. It was a short step from eBay to the e-commerce store, and on 11 February 2008, Tuttocialde.com, a shop for coffee pods and capsules and hot drinks, both original and compatible with the Caffè Agostani brand, went online. On May 20, 2011, the new headquarters in Civate (Lecco) were inaugurated, and the first company store was opened. Hand in hand with online, the activity of the physical stores Agostani Tuttocialde.com also continues. The first store in Milan opens on 6 June 2012, and in the following years the expansion of the sales network continues throughout northern Italy, with over 28 Agostani brand stores, specializing in the retail sale of coffee pods and capsules.
Find out what's behind a click
5,000 square meter warehouse
Thanks to our 5,000 m2 warehouse, we can guarantee thousands of products ready for delivery.
Over 300,000 capsules are handled every day and over 1,000 orders are shipped.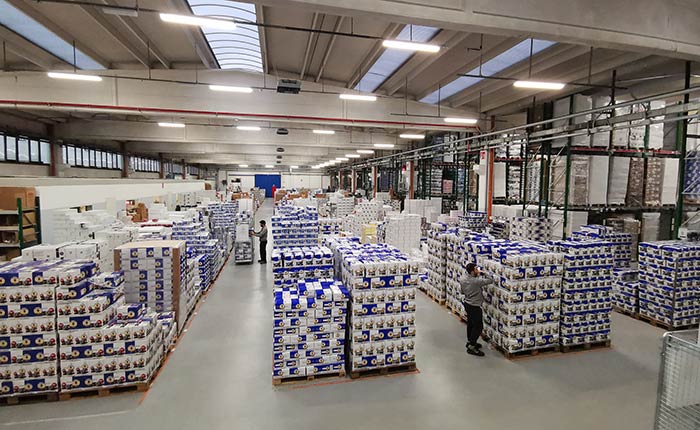 80 employees
Our 80 employees work every day with passion and competence to meet the needs and requests of our customers.
28 Agostani Tuttocialde.com stores in Italy
In addition to the e-commerce site, we have a network of physical stores in northern Italy. From 2011, the date of the opening of the first store in Civate (LC), to date, we have grown by opening numerous stores every year, where you can buy pods and capsules of all major brands, both original and compatible. The points of sale act as a Pick & Pay, that is, they allow you to collect orders placed online on Tuttocialde.com for free.
We currently have 28 stores. And new openings are already planned.
 
Why choose Agostani srl - Tuttocialde.com
Competence, seriousness and professionalism, the result of 50 years of experience in the sector

All the best brands of coffee pods and capsules, both original and compatible with the main coffee machines on the market

Wide choice of products: not only coffee, but also barley, ginseng, cappuccinos, tea and hot drinks

Large availability of pods and capsules inprompt delivery, thanks to a warehouse of 5,000 square meters

Great prices thanks to special offers and quantity discounts

Fast and punctual shipping: if you order before 9.00 am, the shipment takes place the same day and the delivery is always 1-2 working days from the date of shipment

Possibility oforder online or by phone

Customer service always available to recommend the best products based on your coffee machine and your needs and tastes

100 million capsules sold every year
Corporate data
Registered office:
Agostani S.r.l. with sole shareholder
Via Bartolomeo Panizza, 4 - 20144 Milan (MI)
VAT number: 07122330967
SDI: XGQNI24
R.E.A. MI 1937248
Share capital: € 500,000.00 i.v.
Headquarters and company store:
Agostani S.r.l.
Via dei Sassi, 4 - 23862 Civate (Lecco)
Email: info@tuttocialde.com