Illy Iperespresso Coffee Capsules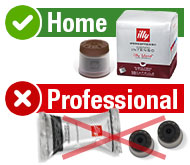 Illy Iperespresso brings an incomparable, intense, and velvety espresso coffee into your homes. A dense and creamy coffee made with nine types of pure Arabica. On Tuttocialde.com you can buy 3 types of original Illy pods online: Iperespresso Classico, with a medium roast and a balanced taste, Iperespresso Intenso, with a dark roast and an intense taste, and Iperespresso Decaffeinato, decaffeinated coffee.
Original Illy Iperespresso coffee capsules
Illy Iperespresso compatible coffee capsules
Compatibility with coffee machines
Original Illy Iperespresso pods
Iperespresso is the name of the innovative coffee capsule made by Illycaffè S.p.A. starting from 2007 for domestic use: the result of Illy's research and innovation in the coffee sector, thanks to a patented technology, that allows you to prepare an italian espresso coffee with thick and persistent cream, and an intense aroma.
To find out the opinions of those who have already tasted the flavors of these capsule coffee blends, we recommend that you consult the reviews below.
Price and offers
Take advantage of the offers available on Tuttocialde.com.
Does it fit my Illy coffee machine?
Please check the Illy coffee machines section and select your model to find all the suitable pods and coffee capsules.