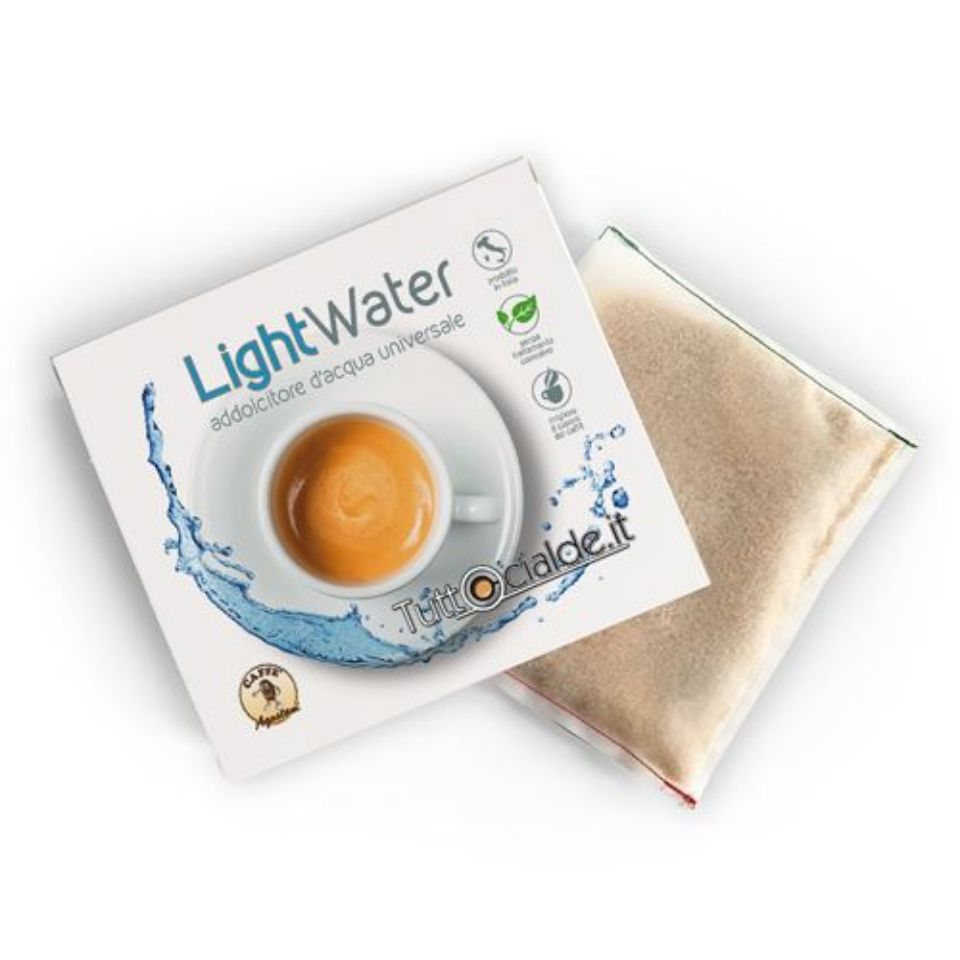 Anti limescale filter - universal water softener for coffee machines - Light Water
Immediate availability
GTIN 8056324381518
Ships out in 1 working day
The Light Water water softener is a filter to be inserted in the water tank of coffee machines to avoid the formation of limescale.
Light Water - anti limescale filter - universal water softener
The package contains a softener filter for drinking water useful to prevent the formation of limescale inside your espresso systems.
The osmotic principle allows the removal of calcium and magnesium ions from the water in the coffee machine tray (cause for limescale).
It is universal and suitable for every model and brand of a coffee machine.


How does it work?
Remove the filter from the protective bag.
Wash the filter with cold running water to activate the resin.
Insert the filter inside the empty water tank of your coffee machine, and then fill it up to the desired level.


Through ion exchange, LightWater replaces calcium and magnesium ions (in their soluble and insoluble forms) present in drinking water with sodium ions. A particular water hardness determines a greater quantity of sodium.
Quantities are given in milligrams/liter, according to the legislative standards and guidelines expressed by the WHO (World Health Organization).
Comparative photographic example after 3 months: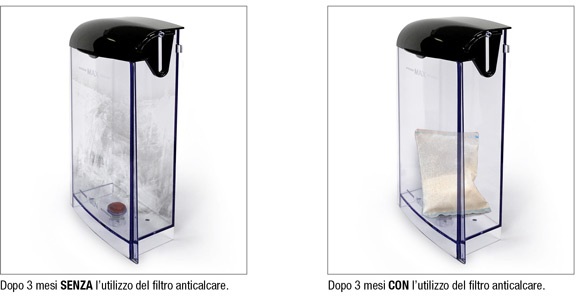 Compliance
LightWater complies with regulation (EC) 178/2002, 852/2004 and EU 1935/04; to Legislative Decree 206/2005 and the art. 9 Law 31/2001, to the Ministerial Decree n. 174 of 6/04/2004, regulation concerning materials and objects suitable for fixed systems for the collection, treatment, adduction and distribution of water intended for human consumption, to regulation 2023/2006 / EC on good manufacturing practices for materials and objects intended to come into contact with food products (GMP).


Features:
Wash LightWater with running water to activate the resin.
Operation: passive, inside the tray
Maximum sodium release: 125 mg / liter
Disposal: Special non-hazardous waste C.E.R. 19.09.05
Type: Home use for the treatment of drinking water
Duration: we recommend replacing every 6 months