Agostani Small Cup Lime coffee machine
Immediate availability
GTIN 8056324384052
Ships out in 1 working day
Online sale Agostani Small Cup capsule coffee machine (lime color). It works exclusively with Caffè Agostani Small capsules.
Agostani Small Cup Lime coffee machine
Agostani Small Cup is an espresso machine that combines the traditional quality of Caffè Agostani with a compact, modern and minimal design. Its small size makes it the ideal solution for all small environments, both at home and in the office.
2 Year warranty
This machine fits only Agostani Small Capsules
Specs:
Power supply: 220 - 240 V; 50 Hz
Rated power: 1100W
Dimensions: width 14 cm, height 28.8 cm, depth 37 cm
Weight: Kg 3,3
Water tank capacity: 0.85 liters
Pump pressure: 19 Bar
Quantity of coffee is automatic or can be programmed: the Espresso and Long Coffee buttons allow you easily setting of the desired length in the cup; the machine stops automatically
Possibility of adjusting the water supply temperature
Height-adjustable cup rest grid for inserting large cup
Automatic ejection of the used capsule into the collector drawer (capacity 8 capsules)
Energy saving function (*stand by) with automatic shutdown after 25 minutes of inactivity
Agostani Small Capsules fits espresso and barley coffee, ginseng, tea and other hot drinks.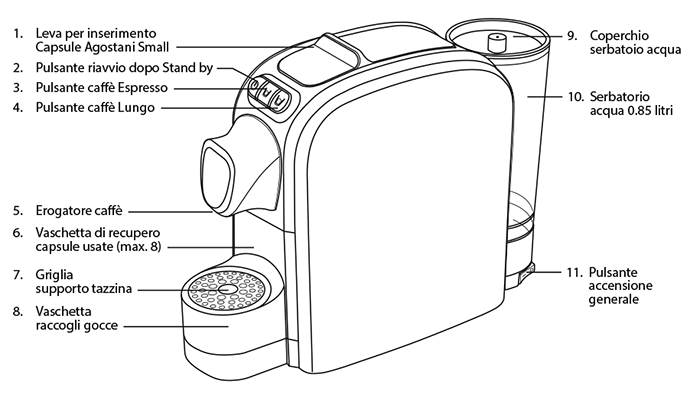 Watch this video and discover the unboxing of the Agostani Small Cup coffee machine
Watch this video and see the coffee dispensing of the Agostani Small Cup machine
Related products