108 capsules STARBUCKS® Caramel Macchiato by Nescafé® Dolce Gusto®
Immediate availability
GTIN 8056324383024
Ships out in 1 working day
9 packs of 12 Starbucks® Caramel Macchiato capsules to prepare caramel latte macchiato with Nescafé® Dolce Gusto® coffee machines.
STARBUCKS® Caramel Macchiato capsules by Nescafé® Dolce Gusto® allow you to make a delicious caramel latte macchiato, even at home.
A drink inspired by the classic STARBUCKS® Caramel Macchiato available in all STARBUCKS® stores
Each pack includes six coffee capsules and six caramel-flavored milk powder caps to be used together to make caramel latte macchiato.
Let yourself be tempted by the creamy taste of the combination of coffee, milk, and caramel.
These capsules fit all Nescafé®Dolce Gusto® coffee machines.
Characteristics:
Drink mix with roasted and ground coffee and whole milk powder, and caramel-flavored sugar
Packs of 12 capsules: 6 powdered milk capsules of 14.5g each (ingredients: whole milk powder 67%, 32% sugar, natural flavors; may contain soy) and 6 coffee capsules of 5.5g each
Gluten-free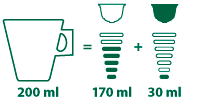 | | |
| --- | --- |
| Ingredients | Preparato per bevanda con caffè torrefatto e macinato, latte intero in polvere con zucchero al gusto di caramello |
Compatibility with coffee machines