108 STARBUCKS® Vanilla Macchiato caps by Nescafé® Dolce Gusto®
Immediate availability
GTIN 8056324383857
Ships out in 1 working day
Starbucks® by Nescafé® Dolce Gusto® Vanilla Macchiato capsules to make a vanilla latte macchiato (9 pack of 12 caps).
STARBUCKS® Madagascar Vanilla Macchiato capsules by Nescafé® Dolce Gusto® are perfect for making a delicious vanilla latte, even at home..
This drink draws inspiration from STARBUCKS® Vanilla Bean Macchiato, available in all STARBUCKS® stores.
Each pack includes six coffee capsules and six vanilla-flavoured milk powder capsules to make your vanilla latte macchiato..
Let yourself be tempted by the creamy pleasure of the combination of coffee, milk and vanilla..
They fit all Dolce Gusto® Nescafé® coffee machines.
Mix for a drink characterised by a velvety blend of milk and Madagascar vanilla aroma with an intense taste to enhance the flavour of Starbucks Blonde Espresso Roast coffee
12 capsules packs (6 of powdered whole milk with sugar + 6 of roasted and ground coffee), suitable for making 6 cups of STARBUCKS® Madagascar Vanilla Macchiato
Preparation: insert the milk capsule first and then the coffee capsule into the Dolce Gusto coffee machine.
Ingredients: 6 powdered milk capsules of 14.5g each (* whole milk powder 70%, sugar 29%, natural flavours; may contain soy) and 6 caps of roasted and ground coffee of 5.5g each.
Gluten-free
Packaged in a protected atmosphere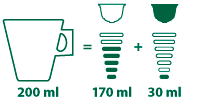 | | |
| --- | --- |
| Ingredients | Preparato per bevanda con caffè torrefatto e macinato, latte intero in polvere con zucchero al gusto di vaniglia |
Compatibility with coffee machines