12 capsules STARBUCKS® Caffè Latte by Nescafé® Dolce Gusto®
Not available
GTIN 7613039838143
Pack of 12 capsules to prepare STARBUCKS® Latte Coffee with Nescafé® Dolce Gusto® coffee machines
These capsuland STARBUCKS® allow you to make Caffè Latte at home, on Dolce Gusto coffee machines, like the one you can order in STARBUCKS coffee shops® of all the world.
Ideal for preparing the drink inspired by the iconic STARBUCKS Latte Coffee®, with milk and a low acidity coffee, with a velvety texture.
The package includes 12 capsules to prepare 12 cups of latte.
Features:
Intense and creamy Latte coffee
Preparation based on powdered milk with soluble coffee and sugar
Each package includes 12 capsules of 14.5g each with powdered milk and coffee, suitable for 12 cups of Caffè Latte
Ingredients: whole milk powder 74.3%, sugar 12.9%, soluble coffee 11.7%, acidity regulator (sodium carbonates), roasted and ground coffee 0.2%. May contain soy
Gluten free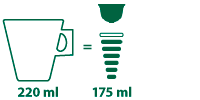 | | |
| --- | --- |
| Ingredients | Preparato per bevanda con caffè torrefatto e macinato, latte intero in polvere e zucchero. |
Compatibility with coffee machines